Dating coaching is a fast-growing industry in Hong Kong. Single men and women in Hong Kong and China are eager to have a happy relationship and marriage, but they do not know how and where to meet good singles, which dating sites to use, how to sounds interesting and confident and so on. A dating consultant (Dating Coach) helps men and women become more confident, and attracting more appropriate matches. This is a rewarding career that brings not just money, but lots of pleasure!
Date coach's estimated income in Hong Kong (in U.S. Dollars):
10 hours/month = $ 1,250 per month
30 hours/month = $ 3,750 per month
60 hours/month) = $ 7, 500 per month
As a Certified Dating Coach in Hong Kong, you can become your own boss and enjoy amazing earning potential. Having your own date coaching business in Hong Kong means you have the strong personality and desire to be successul, control your own life and help other women to be confident and find happy relationship. If you are a social person who loves giving love and dating advice, this career is for you.
By Dr. Joe Rubino

Dr. Joe Rubino,a successful relationship coach for 13 years, has founded Center for Personal Reinvention in 2005. It's one of the first relationship consultancy and training services. Dr. Joe Rubino has worked with more than 200 media providing relationship and self-confidence advice.
Center for Personal Reinvention:
24 audio MP3 recordings and written transcripts by Dr. Joe Rubino to guide you clients dating and relationships success.
2 Audio MP3 Recordings and transcripts teaching a specific set of skills that will help you successfully run your business and earn an income.
1 MP4 Video on the topic of "The Power of Coaching by Justin Sachs"
A certification exam and A Certified Relationship Coach Certificate suitable for framing (optional at no extra cost)
The Center for Personal Reinvention Certified Relationship Coaching Program was designed to make learning from your own home, at your own pace, easy, convenient AND affordable!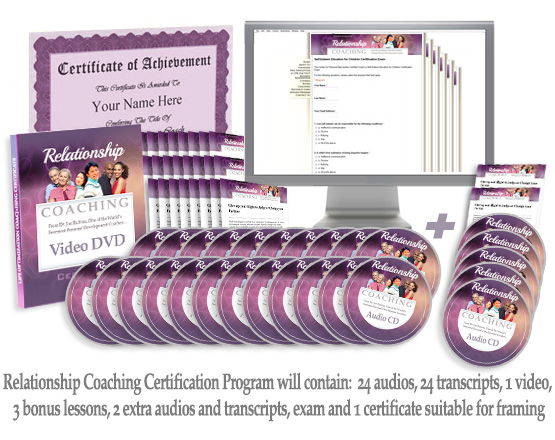 (PRICE):77 USD